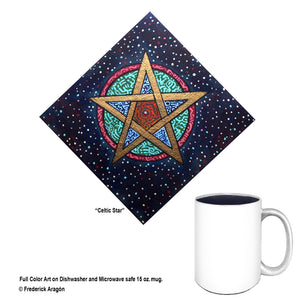 The Celtic star is also known as a pentacle or pentagram, and it has nothing to do with Satan worship. To the contrary, in the Middle Ages, the five points of the star were considered to represent the five wounds Christ received on the cross. The Celtic star is an ancient symbol used by many different cultures. It is considered a positive symbol, offering protection.
This sturdy 15 oz. mug
 is 
dishwasher safe and microwave ready. Long lasting full color 2 sided image. Original art by Frederick Aragón.