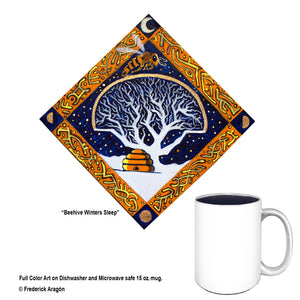 The expression "busy as a bee" exists for a reason. Bees overwinter within their hives, packing their bodies tightly together and using their wings to generate heat. The center of the hive, where the queen reigns, may reach temperatures of 90-100 degrees Fahrenheit, even when there's snow on the ground outside. Unlike many other animals, bees do not hibernate, because even in winter, there's work to be done. 
This sturdy 15 oz. mug
 is 
dishwasher safe and microwave ready. Long lasting full color 2 sided image. Original art by Frederick Aragón.