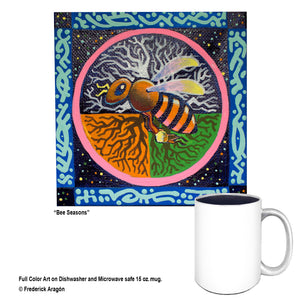 To everything there is a season. This beautiful mug shows a worker bee against a backdrop of all four seasons. Did you know that the flavor of honey differs depending on the season in which it's harvested? This little guy collects pollen for three of the four seasons, making sure we get to experience all the flavors of the year.
This sturdy 15 oz. mug
 is 
dishwasher safe and microwave ready. Long lasting full color 2 sided image. Original art by Frederick Aragón.