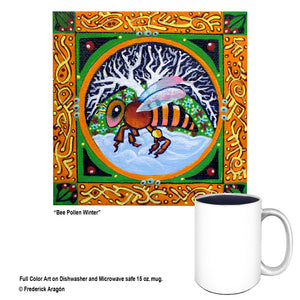 This intrepid worker bee isn't deterred by a little snow and the bare branches of winter. Bees huddle in the middle of their hives and generate heat for their queen during the coldest days--but they are also very tidy creatures, who prefer to poop outside the hive! This little guy is simply doing his part to keep everything clean.
This sturdy 15 oz. mug
 is 
dishwasher safe and microwave ready. Long lasting full color 2 sided image. Original art by Frederick Aragón.