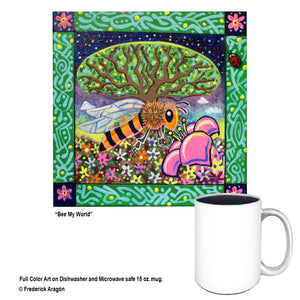 Bee habitats are shrinking--and if the bees die off, so do we. The image on this mug reminds you of two things you can do to help save the bees: Plant a bee garden and trees, which provide both nectar and habitats (and go chemical-free with your fertilizers and weed killers). The mug presents an ideal habitat for these busy little honey-makers.
This sturdy 15 oz. mug
 is 
dishwasher safe and microwave ready. Long lasting full color 2 sided image. Original art by Frederick Aragón.